SAG Awards 2018 - Top 5 best dresses worn in SAG Awards 2018 on the Red Carpet
January 22, 2018
We all know that the awards function is all about glamour, success, and motivation for the artists. Right after the stunning show of Golden Globe Awards, Hollywood stars have been introduced to the red carpet at the 2018 Screen Actors Guild Awards or simply say 2018 SAG Awards.
When one talks about any awards function, the main thing that comes to our mind is awards winner and the dresses worn by the stars. On this particular topic, we will be talking about the top 5 best dresses worn in SAG Awards 2018. Check it out:
Olivia Munn
American actress and model Lisa Olivia Munn aka Olivia Munn simply wowed the audition on the red carpet in an Oscar de la Renta (ODLR) creation from Farfetch. She proved that wearing a black is all about avoiding looking boring.
The silver leaf prints on her dress have made the dress look much classy. In another way, we can state that the dress is a simple and safe gown.
Millie Bobby Brown
Millie Bobby Brown is a familiar name for Stranger Things' fans. Millie made her appearance through an unexpected twist. She rocked the couture with Converse that kicked the red carpet, and she totally nailed it.
Millie was dressed in Calvin Klein and looks super cool. Don't you think that the young actress can have a little bit of fun?
Yara Shahidi
There are fewer people who don't know about Ralph Lauren Corporation, we guess so. Ralph Lauren is an American corporation that is best known for its clothing, products, and marketing. And Ralph Lauren has helped African and Iranian-American actress, model and activist Yara Sayeh Shahidi aka Yara Shahidi.
Shahidi wore a black jumpsuit that could easily veer into the basic territory, and she looked stunning. In the same way, Diana Ross-esque hair and the plum lipstick has added extra charm to her dress.
Alison Brie
Besides being in the headlines for speaking up about the sexual harassment against brother-in-law James Franco, Alison Brie is also in the news for her stunning looks. The Glow star was dressed in 80's vibes while walking on the red carpet.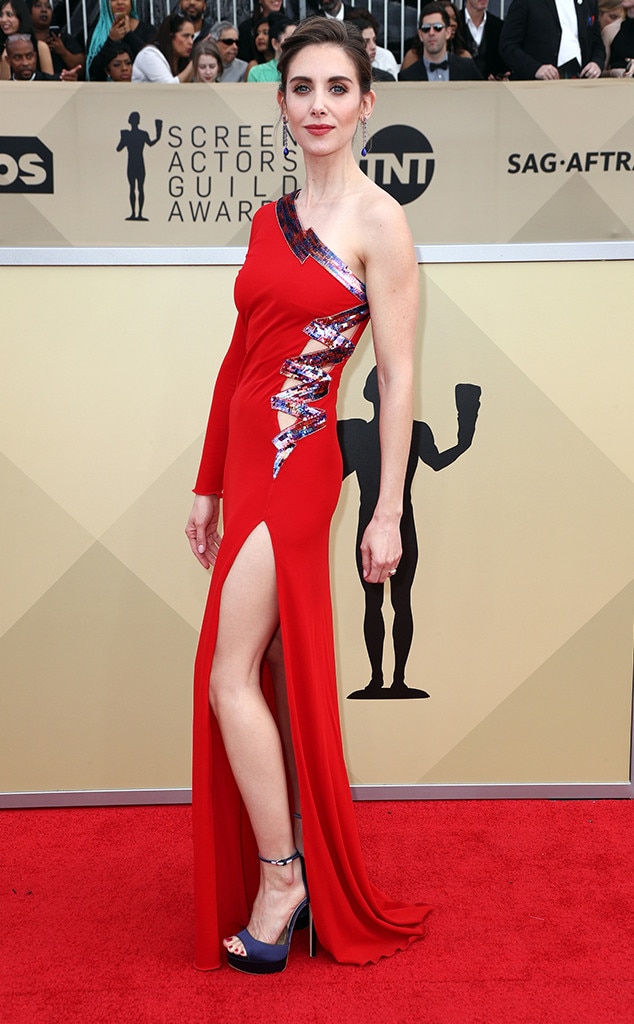 Alison Brie wore a bold one-shoulder Dundas dress which makes her pretty genius. The striking design on the side of the dress has taken the dress to the next level. Don't you think Alison Brie rocked the stage with her red Dundas?
Tracee Ellis Ross
We all know that Tracee Ellis Ross has fashion on her bones and her looks on 2018 SAG Awards has proved it. She was dressed in Ralph and Russo Couture.
When it comes to Tracee Ellis Ross's appearance on the red carpet, she can make you have a glance at Mrs. Roper one and 70s' fashion on next day. Her head to toe white ensemble has made her look royal and stunning as ever.
---
Hollywood
Golden Globe Awards
Screen Actors Guild Awards
Olivia Munn
Millie Bobby Brown
Yara Shahidi
---